Carson Optical

Carson Optical MagniMark 3x Magnifier w/ 6" Ruler
Overview
The MM-22 MagniMark from Carson Optical is a compact page Fresnel Magnifier with a 6-inch ruler. Use the MagniMark Magnifier to keep your place in your book or to assist in reading. The MagniMark is the perfect bookmark!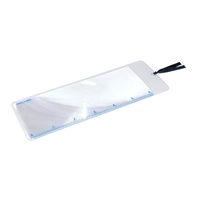 Carson Optical MagniMark 3x Magnifier w/ 6" Ruler
Usually ships in 5-7 business days.