Overview
If you already own an Insteon Hub and want to add garage door control, this kit gets you everything you need to get you controlling the garage door from your smartphone. This kit includes an Insteon IOLinc (2450), magnetic contacts to detect whether the door is open or closed, and plenty of wires for interfacing the IOLinc to your garage door opener.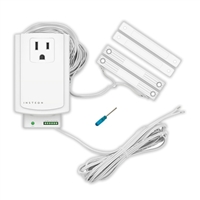 Garage Door Controller
Available for In-Store Pickup Only.