Carson Optical

Carson Optical SureGrip 2x Magnifier, 5" diameter
Overview
The SG-14, SureGrip has one of the largest viewing areas of any handheld magnifier. The 2x, crystal clear acrylic lens makes it a lightweight alternative to traditional glass magnifying lenses. Our ergonomic, SureGrip handle makes gripping easy. The SG-14 is perfect for reading scorecards, directories, recipes or for anyone who needs a wider viewing area. The 2x power primary lens is a full 5 inch (130mm) with a built-in 10x spot magnifying lens for viewing even the smallest of details.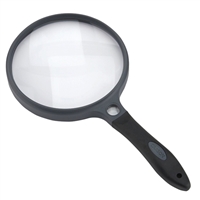 Carson Optical SureGrip 2x Magnifier, 5" diameter
Usually ships in 1-3 business days.