Carson Optical

Carson Optical Soft-Grip Glass Magnifier, 2x with 10x Spot Lens and Case - 3 inch
Overview
If durability is what you need, the SG-10 SureGrip magnifier is what youre looking for. Reasonably priced, it is equipped with a 2x glass lens, along with a 10x high power acrylic spot lens for close up inspection. The 90mm (3.5) glass magnifier is the perfect solution for those searching for a durable lens that will not scratch. The 10x high power acrylic spot lens is integrated into the SureGrip rubberized handle. Soft-padded, zippered case included.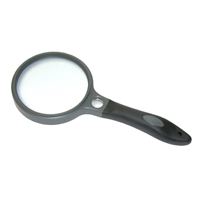 Carson Optical Soft-Grip Glass Magnifier, 2x with 10x Spot Lens and Case - 3 inch
Usually ships in 1-3 business days.