Aoyue

Aoyue Digital Soldering Station
Overview
The Aoyue Int9378 is a high performance soldering iron with 60 watts of heating power. It is equipped with a quick heating ceramic heater for fast response and heat recovery. The separate tip and heater design offers cost efficiency and easy replacement of tips. It has various functions and features such as digital offset, System lock-out , quick jump, Temperature Scale selection and auto sleep. These functions will be discussed in greater detail together with the complete features in the succeeding sections of this manual.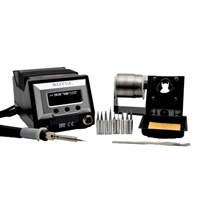 Aoyue Digital Soldering Station
Usually ships in 1-3 business days.