QVS

QVS USB 2.0 (Type-A) Male to USB 2.0 (Type-B) Male Printer & Scanner Cables (3 Pack) 10 ft. - Black
Overview
Connects your computer to any USB device with Type-B female port. This USB 2.0 cable allows you to connect hubs and peripherals such as printers, scanners, and storage drives. USB 1.1 and 2.0 compliant and supports speeds up to 480Mbps.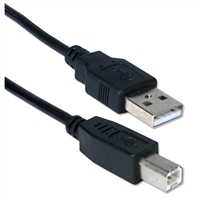 QVS USB 2.0 (Type-A) Male to USB 2.0 (Type-B) Male Printer & Scanner Cables (3 Pack) 10 ft. - Black
Usually ships in 5-7 business days.