Aven

Aven Rosin Core Solder in Tube 1mm Sn60/Pb40
Overview
In addition to its convenient pen shape, this coil of solder contains .70 ounces (20g) of 1mm solder with a leaded rosin flux core. The 60% tin, 40% lead combination is ideal for applications like fine electrical soldering which requires lower melting temperatures.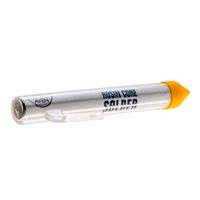 Aven Rosin Core Solder in Tube 1mm Sn60/Pb40
Usually ships in 5-7 business days.