Syba

Syba M.2 SSD to SATA III Interface Adapter with 2.5" HDD Mounting Bracket
Overview
This 2.5"" HDD size adapter is designed to hold one M.2 SSD in a drive bay by utilizing the additional bracket. This allows for data transfer over SATA III while keep the device secure in a drive bay.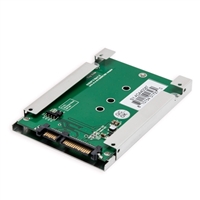 Syba M.2 SSD to SATA III Interface Adapter with 2.5" HDD Mounting Bracket
Usually ships in 5-7 business days.