QVS

QVS Premium World Power Travel Adapter Kit with Surge Protection and 2.1Amp Dual-USB Charger
Overview
This small and lightweight universal travel power adapter provides world-wide compatibility with surge protection. Its 3-in-1 interchangeable adapters work in over 180 countries/territories while 2 built-in USB port can be used to charge 2 devices at once.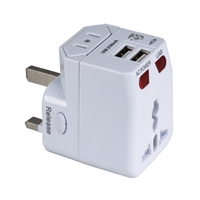 QVS Premium World Power Travel Adapter Kit with Surge Protection and 2.1Amp Dual-USB Charger
Usually ships in 1-3 business days.