Corsair

Corsair Carbide SPEC-01 Red LED ATX Mid-Tower Computer Case - Black
Overview
Great looks, smart design and durable construction dont need to be pricey, and that basic doesn't need to be boring. Carbide Series SPEC-01 has the essential, in-demand features you need in a performance gaming case, and its backed up with legendary Corsair design and build quality.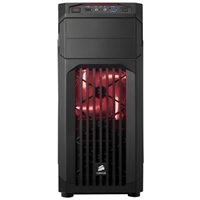 Corsair Carbide SPEC-01 Red LED ATX Mid-Tower Computer Case - Black
Usually ships in 1-3 business days.