Adesso

Adesso iMouse G1 Illuminated Desktop Gaming Mouse
Overview
The Adesso Illuminated Desktop iMouse G1 is the ideal pointing device for the avid gamer or the CAD design engineer, highlighted by a blue illuminated lighting effect for playing or working in dark environments. Featuring four levels of DPI switching, ranging from 800, 1200, 1600 and 2400 at the touch of a button! Its sleek, erognomic design is carefully shaped to eliminate hand strain and improve precision, allowing comfort in gameplay and work for many hours. Finally, the optical sensor technology allows precision in pointing while letting you work on most glass, wood, marble, or leather surfaces without any need of a mouse pad.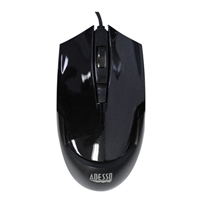 Adesso iMouse G1 Illuminated Desktop Gaming Mouse
Usually ships in 1-3 business days.