BUFFALO

BUFFALO LinkStation 220 Personal Cloud Storage NAS Diskless Enclosure (LS220DE)
Overview
The Buffalo LinkStation 220e Diskless Enclosure provides fast shared storage and backup for all PC and Mac computers, tablets and smartphones on your home network with the security of RAID data protection. Simply add hard drives and connect it to your wireless router for high capacity centralized storage and backup, scalable up to 8 TB. Easy to set up, follow the simple setup from your computer or use Quick Setup to configure LinkStation 220 from your mobile device. With LinkStation 220e, you can back up multiple computers simultaneously and enjoy uninterrupted access to terabytes of storage anytime, anywhere.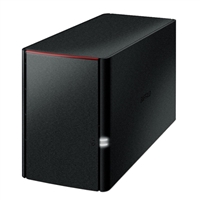 BUFFALO LinkStation 220 Personal Cloud Storage NAS Diskless Enclosure (LS220DE)
Usually ships in 1-3 business days.