Koss

Koss CS100 USB Communication On Ear Headset - Gold
Overview
The Koss CS100 USB communication headset boasts a full range of sound that brings every conversation to life. Hands-free communication via an electret, noise cancelling microphone, is combined with high noise sensitivity and reduced sound distortion for clear conversations. The USB plug provides quick and easy connection to your PC.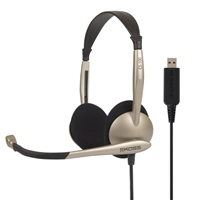 Koss CS100 USB Communication On Ear Headset - Gold
Usually ships in 1-3 business days.