Koss Koss CS95 Communication On Ear Headset

Foam Ear Cushion, Noise Cancelling Microphone - Gold
Overview
Foam Ear Cushion, Noise Cancelling Microphone - Gold
The Koss CS95 communication headsets boast a full range of sound that helps bring conversations to life. With high noise sensitivity and reduced sound distortion not to mention hands-free communication via an electret noise cancelling microphone serious multi-taskers can revel in the advantage offered by the CS95 single-sided headset. One foam ear cushion creates an open, hear-through sound.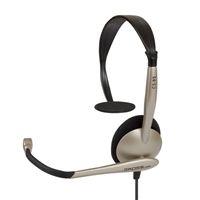 Koss CS95 Communication On Ear Headset

Foam Ear Cushion, Noise Cancelling Microphone - Gold
Usually ships in 5-7 business days.