Koss

Koss QZPRO Noise Cancelling On Ear Headphones - Black/Silver
Overview
For passive noise reduction, the QZPRO feature soft leatherette, closed cushions, which create a tight seal around the ear and reduce ambient noise, all while retaining bass frequencies. Active noise cancellation circuitry embedded into each QZPRO ear cup uses tiny microphones that sample surrounding noise and transmit that information to a processing circuit, which then generates "anti-waves" to counteract the unwanted noise and create a peaceful listening environment. No need for noise cancellation? No problem. Turn it off with the flick of a switch.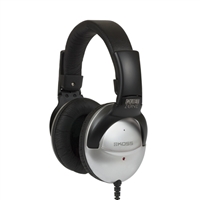 Koss QZPRO Noise Cancelling On Ear Headphones - Black/Silver
Usually ships in 1-3 business days.