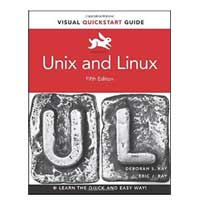 Pearson/Macmillan Books

Pearson/Macmillan Books Unix and Linux: Visual QuickStart Guide, 5th Edition
Overview
In this updated edition, authors Deborah and Eric Ray use crystal-clear instructions and friendly prose to introduce you to all of today's Unix essentials. Youll find the information you need to get started with the operating system and learn the most common Unix commands and concepts so that Unix can do the hard work for you. After mastering the basics of Unix, youll move on to how to use directories and files, work with a shell, and create and edit files. Youll then learn how to manipulate files, configure a Unix environment, and runand even writescripts. Throughout the bookfrom logging in to being rootthe authors offer essential coverage of Unix.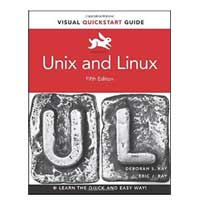 Pearson/Macmillan Books Unix and Linux: Visual QuickStart Guide, 5th Edition
Usually ships in 5-7 business days. Limited availability. May not be in stock at time of order. No back orders.