BUFFALO

BUFFALO DriveStation Duo 4TB (2 x 2 TB) RAID USB 3.1 (Gen 1 Type-A) 3.5" Desktop External Hard Drive - Black
Overview
Buffalo's DriveStation Duo is a two drive, RAID enabled USB 3.1 Gen 1 storage solution for small servers, creative professionals, offices and consumers who need redundant and high performance external storage. Equipped with two high-performance optimized hard drives, DriveStation Duo is designed for continuous 24/7/365 operation with enhanced RAID performance. It supports RAID 0/1 flexible capacity or redundancy. DriveStation Duo works with almost any PC or Mac computer, or it can be connected to a storage server for fast office backup.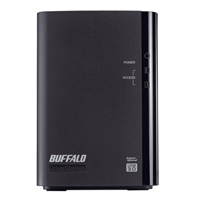 BUFFALO DriveStation Duo 4TB (2 x 2 TB) RAID USB 3.1 (Gen 1 Type-A) 3.5" Desktop External Hard Drive - Black
Usually ships in 1-3 business days.