Kingwin

Kingwin USB 3.0 to SATA & IDE Adapter for 2.5" & 3.5" Hard Drives
Overview
The EZ-Clone USI-2535CLU3 is a USB 3.0 to Dual-SATA & Single-IDE Hard Drive Adapter that also works as a standalone disk-cloning duplicator. The EZ-Clone adapter provides support for two SATA SSD or HDD drives and one IDE hard drive in 2.5 or 3.5 form factors. Access up to two external drives at the same time two SATA drives or one IDE and one SATA drive when connected to the PC.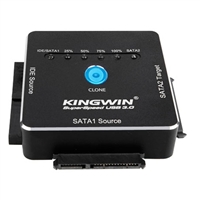 Kingwin USB 3.0 to SATA & IDE Adapter for 2.5" & 3.5" Hard Drives
Usually ships in 1-3 business days.