ValueDisc

ValueDisc BD-R Dual Layer 6x 50GB White Inkjet Printable 25 Pack Spindle
Overview
With the ValueDisc Blu-ray 6x Double Layer 50GB Discs, you can record and rewrite large capacities of data up to 50GB of data on a single-sided disc. That's enough for up to ten standard DVDs on one disc or 46 hours of standard definition television or thousands of music recordings.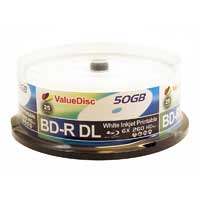 ValueDisc BD-R Dual Layer 6x 50GB White Inkjet Printable 25 Pack Spindle
Usually ships in 1-3 business days.