QVS

QVS USB 2.0 (Type-A) Male to USB 2.0 (Type-A) Male Cable 3 ft. - Black
Overview
This cable connects your computer to any USB device with Type-A female port. It has PVC jacket, is USB 1.1 and 2.0 compliant, and supports USB speeds up to 480Mbps. Works with development boards that uses USB Type-A female ports including JTAG programming modules.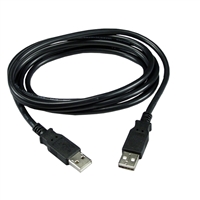 QVS USB 2.0 (Type-A) Male to USB 2.0 (Type-A) Male Cable 3 ft. - Black
Usually ships in 5-7 business days.