Kensington

Kensington K33956AM USB 2.0 Bluetooth 4.0 Adapter
Overview
Simply plug the Kensington Bluetooth 4.0 USB Adapter into your computers USB and youre ready to connect wirelessly with a Bluetooth keyboard, mouse, printer, PDA, cell phone, headset, presentation device, and much more. The Bluetooth 4.0 USB Adapter is so small you can leave it in your laptops USB port without interfering with its portability.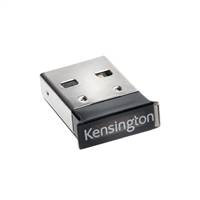 Kensington K33956AM USB 2.0 Bluetooth 4.0 Adapter
Usually ships in 1-3 business days.