D-Link

D-Link DGS-1100-08P EasySmart 8-port Gigabit Switch with Power over Ethernet (PoE)
Overview
D-Links DGS-1100 Series EasySmart Switches provide an affordable solution for SOHOs, small/medium-sized businesses, as well as enterprise deployments. The DGS-1100 Series consists of 5, 8, 16, and 24 10/100/1000Mbps port models. The DGS-1100-08P delivers Power-over-Ethernet capabilities, simplifying deployments with IP cameras, VoIP phones, wireless access points, and other powered devices. The DGS-1100-08P complies with the 802.3af standard for PoE, and supports a 64W power budget. Using the products management interface, an administrator can control various PoE functions, such as remotely rebooting cameras or access points, from anywhere on the network, including over the Internet.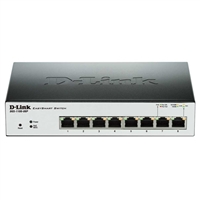 D-Link DGS-1100-08P EasySmart 8-port Gigabit Switch with Power over Ethernet (PoE)
Usually ships in 1-3 business days.