j5create

j5create USB 2.0 (Type-A) Male to USB 2.0 (Type-A) Male Wormhole Switch Transfer Cable 5.9 ft. - White
Overview
The JUC100 Wormhole Switch provides the latest in mobile computing technology. File sharing between multiple computers can be a pain. With the JUC100 there is no software to install or lengthy settings adjustments. Simply plug the wormhole cable into any combination of Windows PCs or Laptops and youre ready to go - file sharing is simply a click away! The JUC100 includes KM functionality built in - use either computers keyboard and mouse to control the other device. Increase your productivity and efficiency with the JUC100 from j5create. When you are using multiple devices it can be a real pain to quickly edit and transfer documents. With the JUC100 you can copy & paste text, pictures or any other kind of data from one device to the next just as easy as copying and pasting on one computer.
Learn more about the j5create JUC 100 Wormhole Switch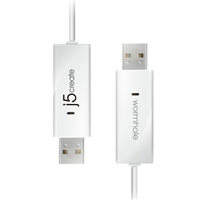 j5create USB 2.0 (Type-A) Male to USB 2.0 (Type-A) Male Wormhole Switch Transfer Cable 5.9 ft. - White
Usually ships in 1-3 business days.