QVS

QVS HDMI 720p/1080p HDTV Female to Male PortSaver Swivel Adaptor
Overview
Converts any HDTV HDMI connection male connector into female, or vice versa. As a PortSaver, it protects the HDMI port from wear and tear. This adaptor has HDMI connector that turns up or down providing angled connection and mounting flat panel closer to the wall, supports HDCP, high-bandwidth, uncompressed video and multi-channel digital audio.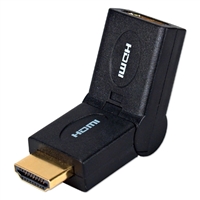 QVS HDMI 720p/1080p HDTV Female to Male PortSaver Swivel Adaptor
Usually ships in 1-3 business days.