Velleman

Velleman Sound-To-Light Kit
Overview
Four high-intensity LEDs light up and react simultaneously on every sound. For different funny and practical applications, such as a sound indicator, simple sound-to-light unit for music, for the hearing impaired and can be used to indicate the telephone, door bell. Adjustable sensitivity with potentiometer. Built-in microphone.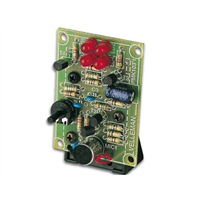 Velleman Sound-To-Light Kit
Usually ships in 1-3 business days.