Night Owl

Night Owl DIY-BNC10 DIY CCTV BNC Connectors for Total of 5 BNC Video Connections (Silver)
Overview
Night Owls DIY-BNC10 is a 10PK BNC video connectors for CCTV cables. These connectors easily attach to CCTV coaxial cables to transfer video from your camera to your DVR. We recommend using Night Owls CAB-RG59B-1000VP or CAB-RG59B-500VP. These connectors are compatible with all Night Owl DVRs and cameras.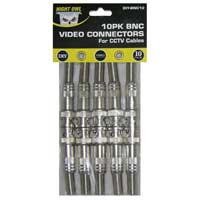 Night Owl DIY-BNC10 DIY CCTV BNC Connectors for Total of 5 BNC Video Connections (Silver)
Usually ships in 5-7 business days.