Accell

Accell ULTRACAT HDMI TO CAT5E EXTENDER
Overview
UltraCAT HDMI to Cat5E extenders. * send 1080P signals at distances up to 164 ft * HDMI A/V uncompressed transmission over signal Cat5E cable * Features EDID to eliminate handshaking issues. * supports color depth up to 36 bits * audio support: up to DTS-HD master audio adn Dolty true HD.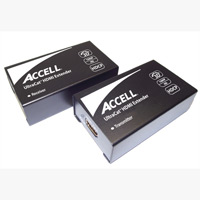 Accell ULTRACAT HDMI TO CAT5E EXTENDER
Usually ships in 5-7 business days.