Velleman

Velleman 3 1/2 Digital Multimeter - 29 Ranges / 20A / Temperature / Capacitance - Low-Cost
Overview
This low-cost digital multimeter has a number of great and high-performance features perfect for finding and testing currents. Features including low-battery indication, overload protection and auto power-off function, transistor, diode and audible continuity test.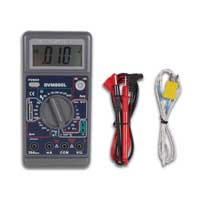 Velleman 3 1/2 Digital Multimeter - 29 Ranges / 20A / Temperature / Capacitance - Low-Cost
Usually ships in 1-3 business days.