Digipower

Digipower QuikPod XT Extreme Imaging Kit
Overview
Quikpod EXTREME great for extreme sports shots while snowboarding, surfing, diving and hiking. Extends from 18 to 53 inches with built in mirror for overhead shots and self-positioning. Easily interchange mounts with quick release camera and GoPro mount. Quikpod EXTREME made from high quality waterproof aluminum components offering strength, durability and portability. Waterproof Aluminum Construction. The QuikPod Extreme weighs only 9 oz. and supports 4.4 lb. device load capacity.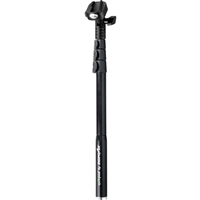 Digipower QuikPod XT Extreme Imaging Kit
Usually ships in 1-3 business days.