CyberPower Systems

CyberPower Systems 1 Outlet with 2 USB (2.1A) Charging Ports and 5 Foot Cord - Black
Overview
The P105U features one (1) outlet, two (2) 2.1A USB ports. The grounded three-prong power outlet safely provides power to netbooks and laptops chargers without having to access inconvenient or hidden wall outlets. Two powerful 2.1 amp USB ports allow for power hungry tablets and smartphones to charge fast. The P105U offers a heavy-duty 5ft. power cord for extra durability.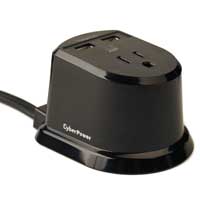 CyberPower Systems 1 Outlet with 2 USB (2.1A) Charging Ports and 5 Foot Cord - Black
Usually ships in 1-3 business days.