Leo Sales Ltd.

Leo Sales Ltd. Jumpers, Premium 6" F/F, 50 wires
Overview
These 6" jumpers are a huge time saver. The 0.025" square pin size fits nice and snug to the sockets on your Arduino and Arduino Compatible board as well as any standard breadboards. The five different colors help you organize your circuit wiring and minimize connection error. Multiple jumpers can be installed next to one another on a 0.1" socket.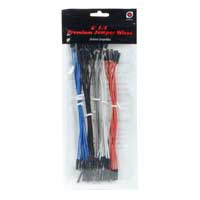 Leo Sales Ltd. Jumpers, Premium 6" F/F, 50 wires
Usually ships in 1-3 business days.