iEssentials

iEssentials 3.3 ft. Retractable 3.5mm Stereo Auxiliary Cable
Overview
Compatible with all devices that have a 3.5mm stereo port, including iPods, iPhones, smartphones and tablets. Can be used to connect your iPod, iPhone or other music player to your car stereo, boom box or home entertainment system. Retractable Cable length: 3.3 ft. - Provides ample reach. Includes a Cable Clip, which grasps your cable so it doesn't fall off of your desktop or surface area every time you unplug your device.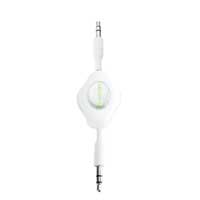 iEssentials 3.3 ft. Retractable 3.5mm Stereo Auxiliary Cable
Usually ships in 1-3 business days.