j5create

j5create USB 2.0 VGA Display Adapter JUA190
Overview
Great for easily viewing multiple windows at the same time, j5creates USB VGA Display Adapter delivers standout performance without difficulties. It ensures a stable connection with your display as it comes with USB 2.0 Type A and VGA-DB 15 pin Female connectors. It comes with primary, extended, and mirroring modes for more flexible viewing. And with its plug and play design, you can easily use it by simply plugging into your system. Get your j5create USB VGA Display Adapter now.
Learn more about the j5create USB 2.0 VGA Display Adapter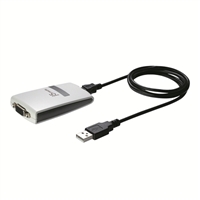 j5create USB 2.0 VGA Display Adapter JUA190
Usually ships in 1-3 business days.