ValueDisc

ValueDisc BD-R 6x 25 GB/135 Minute Disc 25-Pack Spindle
Overview
These discs have 25GB of storage: five times the storage capacity of a normal DVD: which stores over 4.5 hours of high-definition video or approximately 11.5 hours of standard-definition video. This disc features up to 6x writing speed. For use with Blu-ray Disc recorders and players only. These reliable: high-quality discs are compatible with a wide range of drives.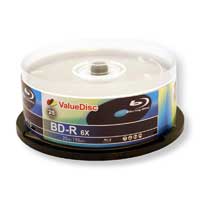 ValueDisc BD-R 6x 25 GB/135 Minute Disc 25-Pack Spindle
Usually ships in 5-7 business days.