QVS

QVS 3-Outlet 3-Prong Power Extension Cord 16AWG with 15 Foot Heavy Duty Cord Black
Overview
This power strip provide 3-prong/3-outlets and extend it by 15ft. It has accessory loop for hanging or wall mounting. Connect your computers, peripherals and other office equipment. It UL listed and made of heavy duty power cord.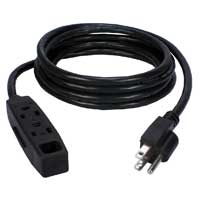 QVS 3-Outlet 3-Prong Power Extension Cord 16AWG with 15 Foot Heavy Duty Cord Black
Usually ships in 5-7 business days.