Allsop

Allsop Metal Art Jr. Stand - Pearl Black
Overview
Strange, but true - not every desk is designed with a computer in mind. I know its hard to believe in this day and age, but whatever. And what about those of you using a counter top or table as a computer desk? Sure the computer will fit the monitor goes behind the keyboard.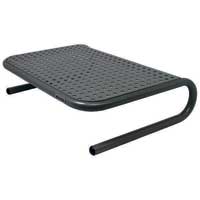 Allsop Metal Art Jr. Stand - Pearl Black
Usually ships in 5-7 business days.