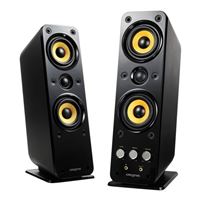 Creative Labs

Creative Labs Gigaworks Series II T40 2 Channel Stereo Computer Speakers - Black
Overview
Creative takes your music to a new level of excellence with the GigaWorks T40 series II speaker system. Designed and tuned to bring acoustic fidelity to your desktop, this two-piece system with its gloss black finish combines the best components and real power with the famous GigaWorks tradition to deliver pure music at its finest. This high-quality component is arranged in MTM (midrange-tweeter-midrange) configuration to achieve audiophile standards, supported by Creative's BasXPort technology for responsive bass. With front-mounted controls and two inputs for simultaneous connection to different sources, this is the system for those who demand the best.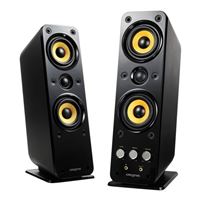 Creative Labs Gigaworks Series II T40 2 Channel Stereo Computer Speakers - Black
Usually ships in 5-7 business days.