QVS

QVS CAT 6a Molded Boot Network Cable 7 ft. - Blue
Overview
Connects any high bandwidth networking applications such as computer to computer, hub to hub and servers. This fully-wired CAT6A patch cord is ISO/IEC-11801 and TIA/EIA-568-B.2 compliant, constructed to minimize crosstalk with internal wire separator for maximum performance and supports speed up to 10 Gigabit ethernet.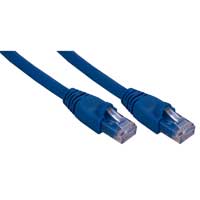 QVS CAT 6a Molded Boot Network Cable 7 ft. - Blue
Usually ships in 1-3 business days.