QVS

QVS Dual Port Full HD HDMI 720p/1080p White Wall Plate Kit
Overview
Terminates HDMI connector for in-wall connections. It has 6 inch pigtail connectors that provide flexible cable drop to minimize cable bend. Supports HDTV resolutions 480i/480p/720i/720p/1080i/1080p and 24/48/50/60/120Hz. The face plate is white in color, made to fit into standard wall mount and made of durable ABS plastic. Includes inner and outer faceplate, feed-thru connectors and screws. It is RoHS compliant.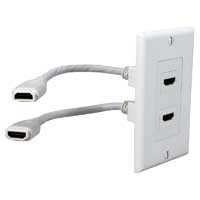 QVS Dual Port Full HD HDMI 720p/1080p White Wall Plate Kit
Usually ships in 5-7 business days.