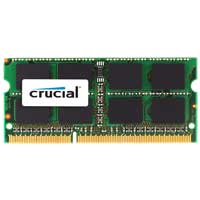 Crucial

Crucial 4GB DDR3-1066 (PC3-8500) CL7 SO-DIMM Laptop Memory Module (Apple Memory)
Overview
If you are an Apple computer user, you know that finding compatible memory is not always easy. With Crucial Memory for Mac, we think it should be. Engineered to be compatible with your Apple system, Crucial memory takes the guesswork out of a DRAM upgrade. Simple to install and backed by a limited lifetime warranty, Crucial Memory for Mac helps your system run the way its supposed to. Since Apple computers often have very specific memory requirements, including particular component densities, speeds, and SPD programming specifications, it is important to buy your memory from people who know Apple computers inside and out. With over a decade of experience manufacturing and fine-tuning memory for Apple systems, we won't leave you bobbing for apples.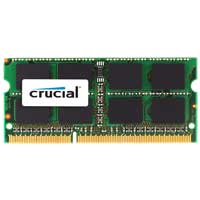 Crucial 4GB DDR3-1066 (PC3-8500) CL7 SO-DIMM Laptop Memory Module (Apple Memory)
Usually ships in 1-3 business days.