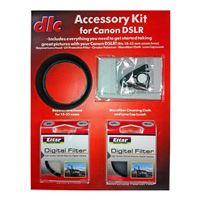 Dot Line

Dot Line Accessory Kit for Canon
Overview
Bayonet Lens Hood for 18-55mm zoom Designed to Bayonet onto the front on your lens. Reverses when not in use. Fits Canon EF-S 18 to 55mm f3.5-5.6 Also fits EF 28 to 80mm f3.5-5.6 II: EF 28 to 90mm f4-5.6 II USM: EF 28 to 90mm f4-5.6 II 58mm UV General Purpose Filter This general purpose filter reduces UV light. Should be used all the time as a general protective filter to protect the surface of your valuable lens. 58mm Circular Polarizer Filter This filter is used to deepen blue skys: create greater contrast and deepen colors. Also used to reduce reflections on glass: water: and reflective surfaces. Rotate the front ring to see the effect through your viewfinder. Microfiber Cleaning Cloth Use this microfiber cloth to clean your camera: lenses: and filters. Wipe gently across the surface. Washable. Lens Cap Leash Tired of losing lens caps? This handy leash attaches to your lens with the sticky pad: and the elastic band attaches to your lens. In use: your lens cap just hangs from your lens on the leash. No more lost lens caps!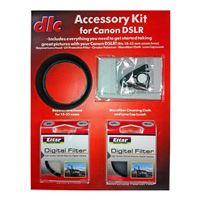 Dot Line Accessory Kit for Canon
Usually ships in 1-3 business days.