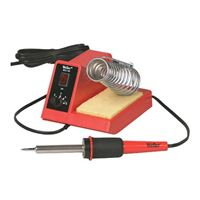 Weller

Weller WLC100 40-Watt Soldering Station
Available for In-Store Pickup Only.

Overview
Ideal for hobbyist, DIYers and students. On/off switch with "power-on" indicator light. Variable power control produces 5-40 watts. Quality lightweight pencil iron. Cushioned foam grip with replaceable heating element. Safety guard iron holder. Natural sponge tip cleaning pad. Includes ST3 iron plated copper tip.
Complete With Accessories
Complete Soldering Station and Quality Pencil Soldering Iron: This station comes complete with every accessory needed for a hobbyist's mid-sized soldering needs; the Weller SP40 lightweight pencil iron, a replaceable .125" screwdriver tip, an iron holder, and a cleaning sponge.
Speeds Up Workflow
Adjustable Temperature Range: The 5 Watt to 40 Watt range of adjustable temperature heats the iron up to 900°F quickly and recovers that heat again after use, speeding up your workflow and making the long wait for a heating iron a thing of the past.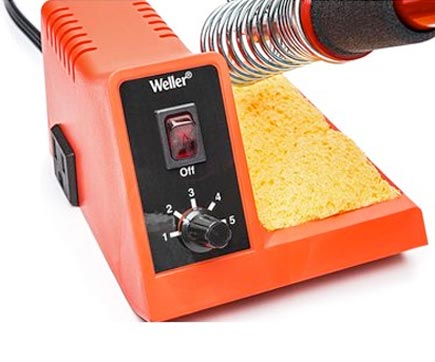 Replaceable Tip
Reliable Screwdriver Tip and Replacement Tip Compatibility: The .125" Screwdriver tip that comes with this set is designed for hobby applications and can be easily replaced. All Weller soldering tips are made from a copper core with iron, nickel, and chromium plating to protect against corrosion.
Variable Temperature
Performs a Range of Jobs: This station's variable temperature can be set as low or high as the job requires, letting you solder a wide range of applications including home electronics, jewelry, and hobby models.
Learn More About the Weller 40 Watts Soldering Station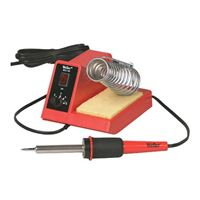 Weller WLC100 40-Watt Soldering Station
Available for In-Store Pickup Only.