QVS

QVS HDMI Female to Mini-HDMI Male HD Camcorder Conversion Cable
Overview
Converts mini-HDMI male connector into HDMI female port. Mini-HDMI are used with newer HD camcorders and with this conversion cable, allows you to connect this camcorder to HDTV using regular HDMI cables. It supports high-bandwidth, uncompressed video and multi-channel digital audio.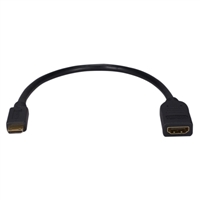 QVS HDMI Female to Mini-HDMI Male HD Camcorder Conversion Cable
Usually ships in 5-7 business days.