Hawking

Hawking Hi-Gain Wireless N Router with Range Amplifier

Overview
Go online and instantly share your internet access between computers in your home or office! Using the state-of-the-art wireless technology, Hawkings HAWNR3 Hi-Gain Wireless-300N Router with Range Amplifier delivers a solid networking experience for home and office users. With up to 6X the transfer speed and up to 250% the distance of a standard Wireless-G network, the HAWNR3 Router makes downloading multimedia files or data more enjoyable. Along with wireless connectivity, the HAWNR3 has 4 wired 10/100Mbps Ethernet ports for connecting your computers that do not have wireless access. It also offers the latest in wireless security, ensuring that your files and network are safe from outside intruders. Installation of the HAWNR3 is simple and straight forward. Just open your web browser and log into the secure setup page to setup the router in minutes. For additional wireless range coverage, the HAWNR3 features two removable antennas for quick and easy antenna upgrade. The HAWNR3 Router is compatible with all Hawking Hi-Gain Wireless Antenna select one that fits your wireless need.
Thinking of leaving your cable provider?

You'll find helpful articles and FAQs about cutting the cord in our Tech Center.
---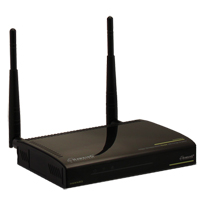 Hawking Hi-Gain Wireless N Router with Range Amplifier