Leo Sales Ltd.

Leo Sales Ltd. OSEPP Digital Servo Metal Gear
Overview
Digital servos have an embedded microcontroller that provides additional functionality over traditional analog servos. Such features include faster response times, programmable speed, accurate positioning, and feedback. For engine powered airplanes and boats, rubber must be used to reduce vibration. Please choose correct model for your application; Torque over-loaded will damage the servo's mechanics; Keep the servo clean and away from dust, corrosive gas, and humid air.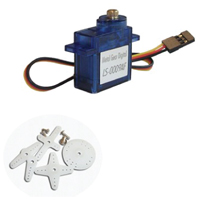 Leo Sales Ltd. OSEPP Digital Servo Metal Gear
Usually ships in 5-7 business days.