Velleman

Velleman Multifunction Relay Switch Kit
Overview
14 different functions including timers, switching, flashing, interval, random switching, ... Two pre-programmed delays. Learning mode for delays of 2s up to 12 days. Push button control. EEPROM for delay time storage in case of power failure. On-board transient filter for the relay contacts. Suitable for control of incandescent lighting, halogen lighting, fluorescent lighting, fans, valves, buzzers,...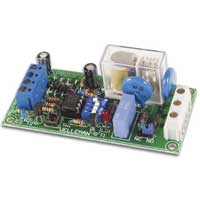 Velleman Multifunction Relay Switch Kit
Usually ships in 1-3 business days.