QVS

QVS FireWire 400 (6-Pin) Female to FireWire 400 (9-Pin) Male Adapter - Black
Overview
Converts any Firewire 800 port such as digital processor or a notebook PC with 9pin port to FireWire 400 6-pin female port. It is IEEE1394 compliant and supports speeds up to 400 Mbps.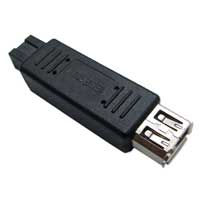 QVS FireWire 400 (6-Pin) Female to FireWire 400 (9-Pin) Male Adapter - Black
Usually ships in 5-7 business days.