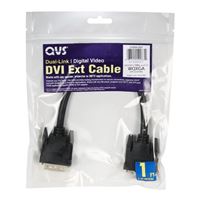 QVS

QVS DVI-D Male to DVI-D Female Dual Link Cable 1 ft. - Black
Overview
PortSavers protect the wear and tear of DVI ports! This male to female cable provides a pigtail connection on DVI port if space is tight or the port is being used for testing purposes. It can also be used as extension cable. This premium cable supports both single and dual link high speed DVI signals, has double shielding for maximum graphics performance and prevents signal loss & screen ghosting. This cable has matched impedance, PVC jacket, molded ends with thumbscrews and inner hood soldered 360 degrees to the connector for complete end to end shielding.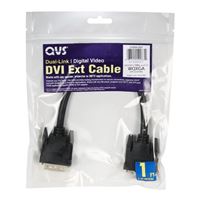 QVS DVI-D Male to DVI-D Female Dual Link Cable 1 ft. - Black
Usually ships in 5-7 business days.