j5create

j5create USB 3.0 HDMI/DVI Display Adapter JUA350
Overview
This video over USB3.0 adapter works as an external video card instantly allowing additional displays without the hassle of opening the computer casing and installing an internal graphic card. You'll be able to extend your desktop across multiple displays or select Mirror Mode to clone one screen onto another. Simply plug & play between your computer and 2nd monitor or projector to the adapter and within seconds create a new visual environment.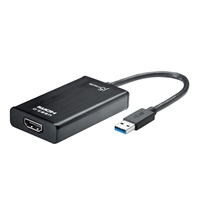 j5create USB 3.0 HDMI/DVI Display Adapter JUA350
Usually ships in 1-3 business days.