CyberPower Systems

CyberPower Systems 6 Outlet Surge Protector 1500 Joules with Phone/Fax/Modem Protection & 4 ft. Cord - Black
Overview
The CyberPower 6050S surge suppressor is an all-purpose electronic surge strip with one built-in RJ-11 port, 1500 Joules of protection and metal oxide varistor (MOV) technology. RJ-11 ports allow for protection of telecommunication devices such as phones, faxes, modems, and DSL lines, while MOV technology safely guards the surge suppressor and connected electronics against line abnormalities and lightning surges. This surge protector is ideal for personal computers, stereo electronics, phones/answering machines, and all other consumer electronics.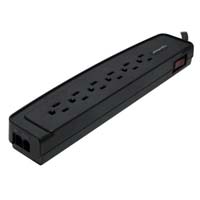 CyberPower Systems 6 Outlet Surge Protector 1500 Joules with Phone/Fax/Modem Protection & 4 ft. Cord - Black
Usually ships in 1-3 business days.